Down South Burgers with Rémoulade Sauce
By
Paula Deen
JUMP TO RECIPE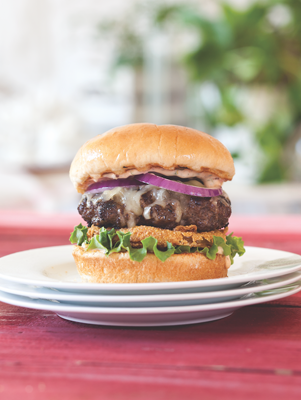 Featured in:
At the Southern Table
Get your copy of At the Southern Table with Paula Deen here.
Difficulty: Easy
Prep time: 10 minutes
Cook time: 15 minutes
Servings: 6
Ingredients
Down South Burgers
2 pounds ground chuck
2 tablespoons Worcestershire sauce
1 teaspoon garlic salt
1/2 teaspoon ground black pepper
1 1/2 cups shredded Gruyère cheese
6 hamburger buns , halved
Rémoulade Sauce (recipe follows)
green leaf lettuce
6 Fried Green Tomatoes
1 small red onion , thinly sliced
Rémoulade Sauce
1 cup mayonnaise
3 tablespoons ketchup
2 tablespoons minced green onion
2 tablespoons minced celery
2 tablespoons minced fresh parsley
1 tablespoon fresh lemon juice
1 tablespoon sweet pickle relish
1 tablespoon whole-grain mustard
2 teaspoons Creole seasoning
Directions
Down South Burgers
Spray grill with nonflammable cooking spray. Preheat grill to medium-high heat (350° to 400°).
In a large bowl, stir together beef, Worcestershire, garlic salt, and pepper. Divide mixture into 6 portions, and shape each into a patty.
Grill patties, covered with grill lid, to desired doneness , 4 to 5 minutes per side. Top each patty with ¼ cup cheese. Cook, covered with grill lid, until cheese is melted, about 1 minute. Grill buns, cut side down, until toasted, 1 to 2 minutes.
Spread Rémoulade Sauce onto bottom half of buns; top with lettuce, Fried Green Tomatoes, patties, onion, more rémoulade, and bun tops. Serve immediately.
Rémoulade Sauce
In a small bowl, whisk together all ingredients. Cover and refrigerate for up to 5 days.