Creole French Fries
By
Paula Deen
JUMP TO RECIPE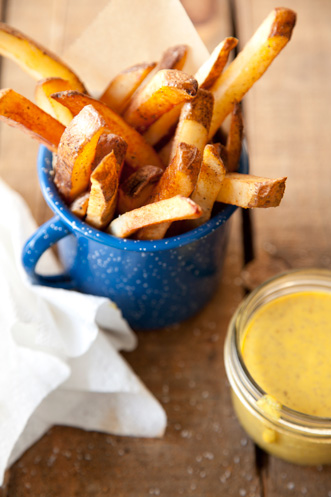 Difficulty: Easy
Prep time: 10 minutes
Cook time: 10 minutes
Servings: 10
Ingredients
4 large Idaho potatoes
for frying peanut oil
Paula Deen Creole Pepper Seasoning
1/4 cup yellow mustard
1/2 cup stone ground mustard
2 tablespoons dijon mustard
2 tablespoons maple syrup
1/4 tablespoons rice wine vinegar
Directions
Preheat oil to 375 °F.
Using a large pot, boil potatoes with skins on until almost done. Allow to cool, and cut potatoes into long strips, approximately 1/4 to 1/2-inch wide and thick. In a large pot or fryer, par-fry the potatoes for 5 to 6 minutes. Potatoes should be limp. Remove potatoes and place onto paper towels and allow to drain.
Place potatoes in oil for 3 to 5 minutes, or until brown. Remove fries from oil, drain on paper towel, and while still hot, season with Creole pepper seasoning and serve with Maple Mustard Dipping Sauce.
Maple Mustard Sauce:
Whisk all ingredients together and serve.