Creole Burgers with a Bayou Mayo
By
Paula Deen
JUMP TO RECIPE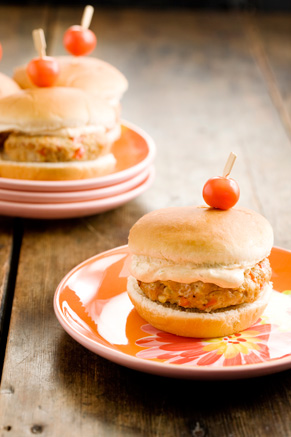 Difficulty: Easy
Prep time: 15 minutes
Cook time: 15 minutes
Servings: 15
Ingredients
1 medium finely chopped Vidalia onion
2 cloves minced garlic
1 finely chopped red bell pepper
2 lbs ground chicken
1 egg
1/2 cup breadcrumbs
3 teaspoons divided Creole seasoning
8 hamburger buns
1 cup mayonnaise
1 juiced lemon
1 tablespoon finely chopped fresh chives
Directions
Lightly spray a sauté pan with a non stick cooking spray. In the prepared pan, sauté the onion, garlic and bell pepper until tender. Set aside and allow to cool completely.
In a large bowl, combine the chicken and cooled mixture. Add the egg, breadcrumbs and 2 teaspoons Creole seasoning. Mix all together well, and form into 8 patties. Salt and pepper each patty.
Spray a large skillet with non stick cooking spray and cook burgers until done, about 5 minutes on each side.
While burgers are cooking, prepare Bayou Mayo.
Bayou Mayo
In a small mixing bowl, combine mayonnaise, 1 teaspoon Creole seasoning, lemon juice and chives and stir.
To assemble burgers, place patty on bun half, top with generous dollop of Bayou Mayo. Put top bun over chicken burger and serve!