Smashed Potato Pancakes
By
Paula Deen
JUMP TO RECIPE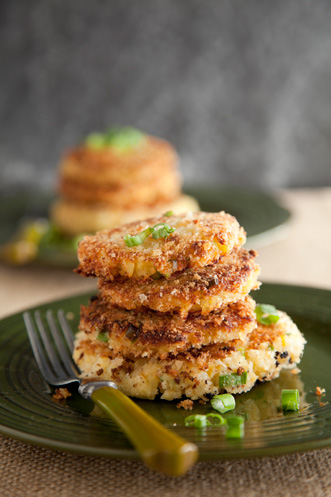 Difficulty: Easy
Prep time: 15 minutes
Cook time: 15 minutes
Servings: 15
Ingredients
6 cups peeled and diced into 1-inch cubes Yukon Gold potatoes
1 clove minced garlic
1 teaspoon salt
1/2 teaspoon black pepper
3 1/2 cups divided panko breadcrumbs
1 large lightly beaten egg
1/2 cup shredded cheddar cheese
1/2 cup cooked and crumbled bacon
1/2 cup chopped green onion
1/4 cup room temperature butter
1/4 cup sour cream
3 tablespoons extra virgin olive oil
Directions
In a large Dutch oven, add the potatoes and cover with water. Bring to a boil over medium-high heat; then reduce heat, and simmer until tender about 10 to 12 minutes. Drain well and add to a large bowl.
Mash the potatoes with the garlic and salt and pepper. Fold in 2 1/2 cups of the panko, the egg, cheese, bacon, onion, butter and the sour cream. Form the potato mixture into 3-inch patties. Put the remaining 1 cup of panko in a shallow dish and dredge the potato patties in the crumbs.
In a large skillet, heat the oil over medium-high heat. Add the potato patties, and cook until brown and crisp, 3 to 4 minutes per side. Arrange on a serving platter and serve immediately.