Slow Cooker Pulled Pork Sandwiches and Buttermilk Coleslaw
By
Paula Deen
JUMP TO RECIPE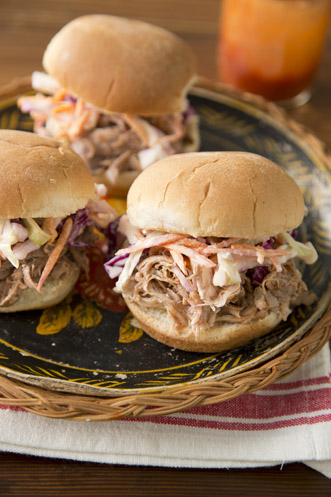 Difficulty: Easy
Prep time: 10 minutes
Cook time: 10 minutes
Servings: 10
Ingredients
2 tablespoons chili powder
1 tablespoon onion powder
1 teaspoon garlic powder
2 teaspoons plus more for slaw kosher salt
1 teaspoon freshly ground, plus more for slaw black pepper
pinch optional cayenne pepper
5 lbs boneless pork butt or shoulder
2 cups homemade or store bought barbecue sauce
10 to 12 soft hamburger buns
1/2 cup mayonnaise
1 1/2 tablespoons dijon mustard
2 tablespoons light brown sugar
2 tablespoons apple cider vinegar
2 tablespoons buttermilk
1/2 teaspoon celery salt
4 cups (about 1/2 head) finely shredded green cabbage
4 cups (about 1/2 head) finely shredded purple cabbage
2 large grated carrots
Directions
In a small bowl, mix the chili powder, onion powder, garlic powder, salt, pepper and cayenne, if using. Rub the spice mixture on all sides of the pork. Cover and refrigerate for at least 2 hours, or overnight.
Place pork in a slow cooker. Set on low heat and cook for 10 hours. Transfer from the slow cooker to a roasting pan and shred with two forks, removing any large pieces of fat. Pour the broth into a heatproof pitcher or large fat separator, and skim off the fat. Put the pork back into the slow cooker. Combine the barbecue sauce and 3 cups of the skimmed broth. Stir into the pork and cook 2 hours. Using a slotted spoon, remove the pork from the slow cooker. Place the meat on a serving platter or on individual buns. Serve the remaining sauce alongside.
Buttermilk Coleslaw
I can'€™t have a summer barbecue without this buttermilk coleslaw on the menu. I absolutely love the flavors of the spicy Dijon mustard combined with the tang of the cider vinegar and buttermilk, and the sweetness of the brown sugar and the secret ingredient:€" celery salt. The colors of the green and purple cabbage with the orange carrots look so pretty on the table. When you make my pulled-pork barbecue, be sure to make this coleslaw and serve them together on a bun.
Whisk together the mayonnaise, mustard, brown sugar, vinegar, buttermilk, celery salt, kosher salt, and pepper in a large bowl. Add the cabbages and carrots and toss to combine. Cover and chill until serving time.