Seafood Nachos
By
Bubba Hiers
JUMP TO RECIPE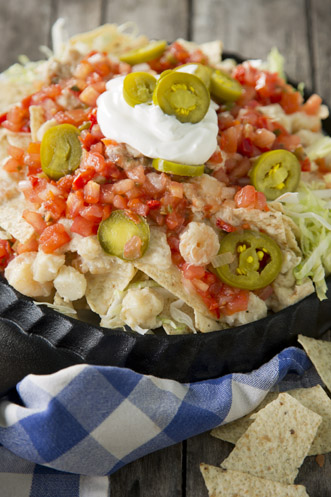 Difficulty: Easy
Prep time: 15 minutes
Cook time: 15 minutes
Servings: 15
Ingredients
1 (16 oz) bag tortilla chips
2 cups sharp cheddar cheese, shredded
2 cups pepper Jack cheese, shredded
1 tablespoon butter
1 clove garlic, minced
8 oz lump crabmeat, picked clean of shells, chopped
1/2 lb shrimp, boiled, peeled, deveined, and tails removed, chopped
1/2 lb scallops, chopped, muscle removed
1 cup heavy cream
1/2 teaspoon garlic powder
2 cups grated Parmesan cheese
1 cup iceberg lettuce, shredded, for topping
salt
freshly ground black pepper
1 cup pico de gallo,
10 to 12 pickled jalapeño slices, for topping
sour cream, for topping
Directions
Preheat the oven to 350 °F.
In a large baking pan or cast iron pan place a layer of the tortilla chips and cover with the shredded cheddar and pepper Jack cheeses. Bake the chips for 2 to 3 minutes, or until the cheeses are melted. Remove the dish from the oven and set aside.
In a large sauté pan over medium-high heat, melt the butter and sauté the garlic until soft. Add the crabmeat, shrimp and scallops and sauté for 3 minutes.
Add the cream, garlic powder, Parmesan, salt and pepper, to taste, to the seafood and stir for 2 to 3 minutes, until the sauce has thickened.
Remove the seafood mixture from the heat and pour over the tortilla chips. Top the nachos with shredded lettuce, pico de gallo, jalapeños and a large dollop of sour cream. Serve immediately.