End Zone Egg Rolls with Sour Cream Salsa Verde
By
Deen Brothers
JUMP TO RECIPE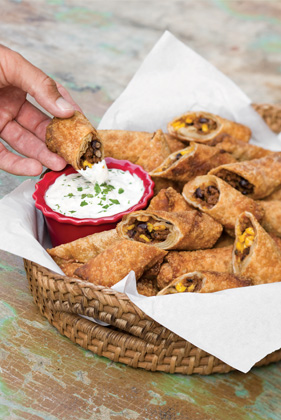 Difficulty: Easy
Servings: 30 Egg Rolls
Ingredients
Egg Rolls
1 pound ground chuck
2 cups Monterey Jack cheese, shredded
1 15.25-ounce can corn kernels
1 15.5-ounce can black beans
1 cup prepared salsa
1 (1-ounce) package taco seasoning mix
1 tablespoon ground cumin
30 egg roll wrappers
vegetable oil, for frying
Sour Cream Salsa Verde
2 cups sour cream
3/4 cup prepared salsa verde
1/4 teaspoon chipotle chile pepper
fresh cilantro
Directions
Egg Rolls
In a large bowl, combine ground chuck, cheese, corn, black beans, salsa, taco seasoning mix, and cumin. Spoon about 3 tablespoons beef mixture in center of each egg roll wrapper. Fold top corner of each wrapper over filling, tucking tip of corner under filling, and fold left and right corners over filling. Lightly brush remaining corner with water; tightly roll filled end toward remaining corner, and gently press to seal.
In a large Dutch oven, pour oil to a depth of 4 inches; heat over medium heat to 350. Fry egg rolls, in batches, for 5 to 6 minutes or until golden. Drain on paper towels. Serve with Sour Cream Salsa Verde.
Store cooked egg rolls in zip-top resealable plastic bags in the freezer up to 1 month. Reheat frozen egg rolls on a rimmed baking sheet at 350Ëš for 15 to 20 minutes. You can substitute ground pork or shredded chicken for ground chuck.
Sour Cream Salsa Verde
In a small bowl, combine sour cream, salsa verde, and pepper. Cover and chill for up to 3 days. Garnish with fresh cilantro, if desired.