Sausage, Egg, and Cheese Breakfast Braids
By
Paula Deen
JUMP TO RECIPE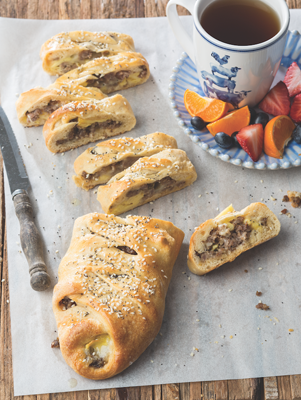 Difficulty: Medium
Prep time: 15 minutes
Cook time: 20 minutes
Servings: 2 (8-inch) Loaves
Ingredients
¾ pound ground breakfast sausage
2 tablespoons unsalted butter
8 large eggs, divided
1¾ teaspoons Kosher salt, divided
1 teaspoon ground black pepper
¼ teaspoon dried thyme
1 (8-ounce) package shredded sharp Cheddar cheese
2 (8-ounce) packages refrigerated crescent dough sheets
1 teaspoon sesame seeds
¼ teaspoon garlic powder
¼ teaspoon onion powder
¼ teaspoon poppy seeds
Directions
In a large nonstick skillet, cook sausage over medium heat, stirring frequently, until browned and crumbly. Drain well, and transfer to a large bowl. Wipe skillet clean.
In same skillet, melt butter over medium heat. In a large bowl, whisk together 7 eggs, 1½ teaspoons salt, pepper, and thyme. Add egg mixture to skillet; cook, stirring frequently, just until eggs are set in large, soft curds. Remove from heat. Gently stir eggs and cheese into sausage.
Preheat oven to 400°. Line two large baking sheets with parchment paper.
Unroll one sheet of crescent dough onto one prepared pan. Spoon half of egg mixture lengthwise down center of dough, leaving a ½-inch border at each end. Using a sharp knife, cut 1-inch-wide strips along sides of dough. Fold 1/2-inch borders of dough onto filling; fold side strips of dough onto filling in a crisscross pattern. Repeat procedure on remaining pan with remaining dough and remaining egg mixture.
In a small bowl, whisk together sesame seeds, garlic powder, onion powder, poppy seeds, and remaining ¼ teaspoon salt. In another small bowl, whisk remaining egg. Brush egg wash onto braids, and sprinkle with sesame seed mixture.
Bake until golden brown, 15 to 20 minutes, rotating pans halfway through baking. Let cool on pan for 10 minutes; serve warm.
Baking Tip
Braids can be assembled through step 4, covered, and refrigerated overnight. Brush with egg wash and sprinkle with sesame seed mixture just before baking.