Roasted Red Potatoes With Mustard Vinaigrette
By
Paula Deen
JUMP TO RECIPE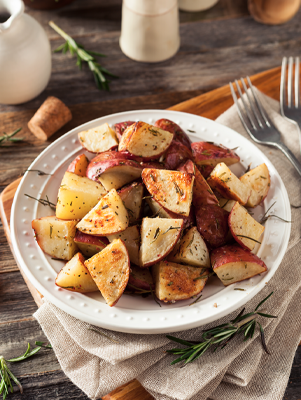 Difficulty: Easy
Prep time: 20 minutes
Cook time: 45 minutes
Servings: 6
Ingredients
Roasted Potatoes
1 1/2 lbs red potatoes, scrubbed and cubed into uniform chunks
4 cloves garlic, peeled and crushed
2 tablespoons olive oil
kosher salt
ground black pepper
Vinaigrette
2 tablespoons olive oil
1 tablespoon grainy mustard
1 tablespoon white wine vinegar
2 tablespoons fresh parsley, roughly chopped
1 shallot, finely chopped
Kosher salt
ground black pepper
Directions
Roasted Potatoes
Preheat the oven to 400 °F. Add the potatoes and garlic to a baking sheet, drizzle with 2 tablespoons oil, tossing to coat, and sprinkle with salt and pepper. Roast the potatoes until crisp and golden brown on the outside and tender on the inside, about 45 minutes, flipping halfway through.
Toss the still-hot potatoes with the vinaigrette and serve warm.
Vinaigrette
While the potatoes are roasting, whisk together the remaining oil, mustard, white wine vinegar, parsley and shallots. Season with salt and pepper.