Ricotta Cookies
By
Julie Cannon
JUMP TO RECIPE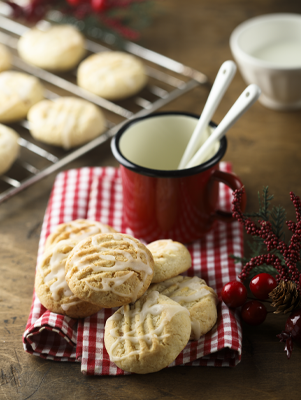 Difficulty: Easy
Prep time: 20 minutes
Cook time: 10 minutes
Servings: 18 to 24
Ingredients
4 cups flour
1 teaspoon salt
1 teaspoon baking powder
1 teaspoon baking soda
1 cup butter, butter
2 cups sugar
2 eggs
15 ounces ricotta cheese
2 teaspoons vanilla extract
1 teaspoon almond extract
Directions
Preheat oven to 350˚F.
Mix together flour, salt, baking powder, and baking soda.
In a separate bowl, cream together the butter and sugar for a few minutes. Add ricotta, and mix well. Add eggs, and mix well. Then slowly add the flour mixture and mix only until combined.
Lastly, add the extracts, mixing gently by hand. Don't over-mix this dough!
Scoop cookies by the tablespoon and place on a parchment-lined baking sheet. Bake for about 10 minutes until edges are a light golden-brown.
Cook's Note: I frost these with powdered sugar and lemon juice, but I sometime just use powdered sugar, vanilla, and heavy cream to make a basic glaze that hardens. Then I just top with sprinkles!