Quick Spaghetti and Meatballs
By
Deen Brothers
JUMP TO RECIPE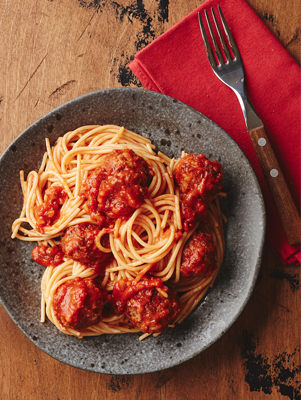 Featured in:
The Deen Bros. Take It Easy
Difficulty: Easy
Prep time: 20 minutes
Cook time: 30 minutes
Servings: 6
Ingredients
1 pound ground beef
6 tablespoons grated Parmesan cheese
1/4 cup plain unseasoned bread crumbs
1 large egg
1 1/2 teaspoons The Lady's House Seasoning
1 tablespoon dried oregano
3 tablespoons olive oil
One 24-ounce jar marinara sauce
1 pound spaghetti
of The Lady's House Seasoning* (Please note: this recipe has been corrected from the misprint in the book which called for 2 tablespoons)
Directions
In a bowl, combine the beef, Parmesan cheese, bread crumbs, egg, house seasoning, and oregano. Use your hands to form the mixture into 2-inch round meatballs.
Heat the olive oil in a large skillet over medium-high heat. Add the meatballs and cook, turning occasionally, for 5 to 10 minutes total, or until golden brown. Add the marinara sauce and reduce the heat to medium. Simmer for 15 to 20 minutes, or until the meatballs are no longer pink. Cover and keep warm.
Bring a large pot of salted water to a boil. Cook the spaghetti according to the package directions. Drain well. Divide the spaghetti among four shallow bowls and top with the meatballs and sauce. Garnish with Parmesan cheese.