Chocolate Dipped Cannoli
By
Paula Deen
JUMP TO RECIPE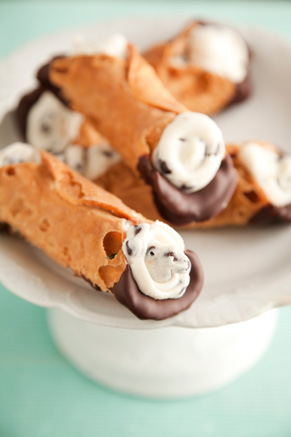 Difficulty: Easy
Prep time: 15 minutes
Servings: 12
Ingredients
3 tablespoons amaretto
1 teaspoon ground cinnamon
2/3 cup heavy cream
1/3 cup confectioner's sugar
1/4 cup unsalted chopped pistachios
1 cup ricotta cheese
12 prepared cannoli shells
1/2 cup melted chocolate
Directions
In a large bowl, whip together amaretto, cinnamon, heavy cream and confectioner's sugar until soft peaks form.
In a medium bowl, combine the pistachios and ricotta and stir in half of the whipped cream. Gently fold in the remaining whipped cream. Fill a pastry bag with no tip with the mixture to fill the cannoli shells.
Dip the tips of the cannoli into the melted chocolate. Place the sheet tray in the refrigerator for 2 hours or until filling and chocolate is set.