Quick Pickled Cucumber, Tomato and Onion Salad
By
Deen Brothers
JUMP TO RECIPE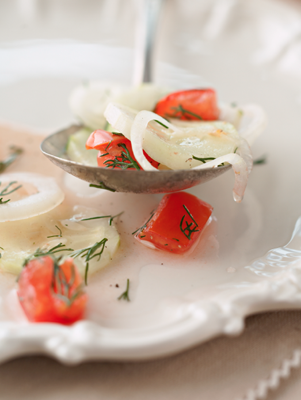 Featured in:
The Deen Bros. Y'all Come Eat
Difficulty: Easy
Prep time: 40 minutes
Servings: 6
Ingredients
2 cucumbers
1/2 large Vidalia onion, sliced
1 tablespoon cider vinegar
1 teaspoon salt
1 large tomato, sliced
1 1/2 tablespoons fresh dill, chopped
freshly ground black pepper
Directions
In a medium bowl, combine the cucumbers and onion; sprinkle with the vinegar and 3/4 teaspoon of the salt. Cover and let stand for 30 minutes.
In a separate bowl, toss the tomato with the remaining 1/4 teaspoon salt. Add the tomato to the cucumber mixture. Add the dill and pepper to taste; toss to combine. Taste and adjust the seasoning if desired.