Quick and Easy Chicken Pot Pie
By
Paula Deen
JUMP TO RECIPE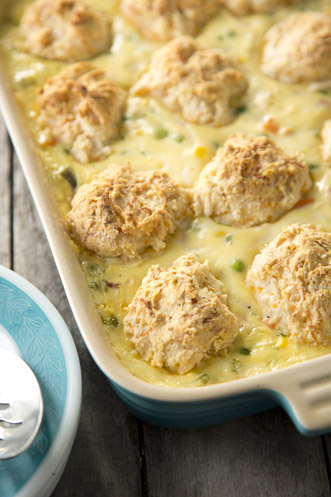 Difficulty: Easy
Prep time: 20 minutes
Cook time: 40 minutes
Servings: 12
Ingredients
2 (10.75-oz) cans cream of chicken soup
1 cup sour cream
1 cup milk, divided
1/2 teaspoon dried parsley
1/4 teaspoon garlic powder
1/4 teaspoon salt
1/4 teaspoon ground black pepper
1 (1-lb) package frozen mixed vegetables, thawed
3 cups cooked chicken, chopped
1 1/2 cups baking mix
1/2 cup sharp cheddar cheese, grated
Directions
Preheat oven to 350°F. Lightly grease a 13x9x2-inch baking dish.
In a large bowl, combine soup, sour cream, 1/2 cup milk and seasonings. Stir in vegetables and chicken. Spoon mixture into prepared baking dish; set aside.
In a small bowl, combine baking mix and cheese. Add remaining 1/2 cup milk, stirring just until dry ingredients are moistened. Drop biscuits by heaping tablespoonfuls evenly over chicken mixture. Bake 35 to 40 minutes, or until biscuits are browned and pot pie is hot and bubbly.