Quatro Leches Cake
By
Paula Deen
JUMP TO RECIPE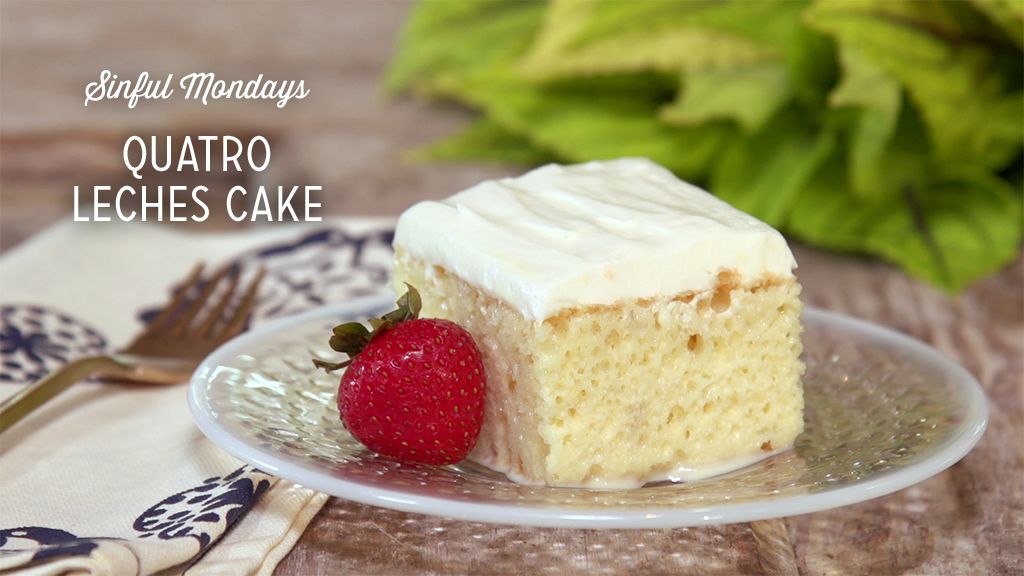 Difficulty: Medium
Prep time: 180 minutes
Cook time: 30 minutes
Servings: 12
Ingredients
Cake
2 cups flour
1 tablespoon baking powder
1/2 cup sugar
3 large eggs
1/2 cup whole milk
Quatro Leches Filling
1/2 cup whole milk
1 (14-oz) can sweetened condensed milk
1 (12-oz) can evaporated milk
2 cups heavy cream
1 tablespoon vanilla
Frosting
4 egg whites
1/2 cup sugar
Directions
Cake
Preheat oven to 375 °F. Prepare a casserole dish with non-stick spray, set aside.
In a bowl, sift together flour and baking powder, then add 1/2 cup of the sugar. Add the 3 eggs and 1/2 cup of the whole milk and use an electric mixer to combine.
Pour the batter into a prepared baking dish and press evenly into the bottom.
Bake the cake for 20-25 min, or until a toothpick inserted in the center comes out clean.
When the cake has cooled, pierce the cake all over with a fork.
Ladle the quatro leches mixture over the top of the cake. Set the cake in the refrigerator for at least 2-3 hours to allow the cake to absorb the milk.
Cover the cake with the frosting and serve, or keep chilled until you are ready to serve.
Quatro Leches Filling
In a bowl, combine 1/"2 cup of whole milk, the sweetened condensed milk, evaporated milk, heavy cream and vanilla and gently stir.
Frosting
Using a small caldero (heavy, round pot), fill one quarter full of water and heat on low.
Make a double boiler by setting a bowl with egg whites over the top of the caldero, mixing immediately so the eggs will not begin to cook.
Slowly add the 1/2 cup of sugar to the egg whites on medium heat, beating with an electric mixer, until the frosting is firm with stiff peaks.