Portobello and Asparagus Salad
By
Paula Deen
JUMP TO RECIPE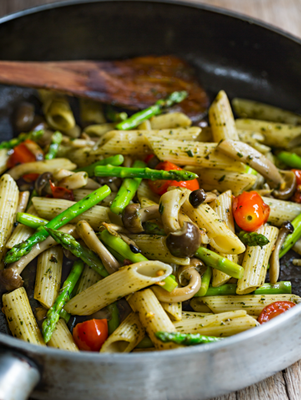 Difficulty: Easy
Prep time: 5 minutes
Cook time: 5 minutes
Servings: 5
Ingredients
4 large stems removed portobello mushrooms
1 bunch tough ends removed fresh asparagus
1 pint halved grape tomatoes
3 tablespoons olive oil
2 tablespoons fresh lemon juice
1 lb cooked penne pasta
1 teaspoon salt
2 teaspoons dried oregano
1 1/2 teaspoons onion powder
1 1/2 teaspoons garlic powder
1 teaspoon freshly ground black pepper
1 teaspoon dried parsley flakes
Directions
Remove stems from portobello mushrooms.
Brush mushrooms, asparagus and tomatoes with olive oil. Grill mushrooms over medium heat until tender, 4 to 5 minutes per side, turning occasionally. Cut mushrooms into thin strips; place in a medium bowl.
Grill asparagus over medium heat for 3 to 4 minutes, turning occasionally. Cut asparagus into 2 inch lengths; add to mushrooms in bowl.
Grill tomatoes, cut side down, over medium heat for 3 minutes. Add to mushrooms and asparagus and toss in the pasta. Drizzle with lemon juice and olive oil. Sprinkle with seasoning, tossing gently to coat.
Seasoning:
Combine all spices in a bowl and transfer to an airtight container. Store in a cool, dry place up to 6 months.