Smoky Portobello Soup
By
Paula Deen
JUMP TO RECIPE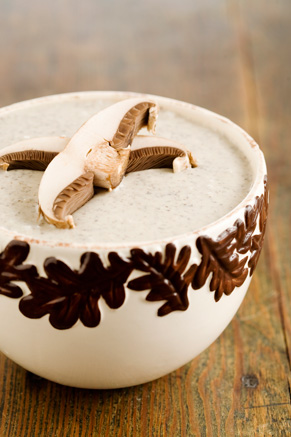 Difficulty: Medium
Prep time: 10 minutes
Cook time: 10 minutes
Servings: 10
Ingredients
1 1/4 cups equal parts butter and flour; cook slowly over low heat white roux
1 1/2 tablespoons chopped garlic
8 cups chicken stock
1 quart heavy cream
1 teaspoon liquid smoke
1/4 cup white wine
1/4 cup olive oil
1/2 cup chopped sweet onions
8 medium portobello mushrooms
croutons
sour cream
sliced (for garnish) chives
Directions
Combine 1/4 cup of olive oil and 3 drops of liquid smoke. Toss 4 of the Portobello mushrooms in oil mixture and roast them in 350 °F oven for approx 45 minutes.
Remove the mushroom gills from the 4 remaining Portobello's (underside of the caps). Chop mushrooms into cubes. In a large pot sauté the onions.
Once onions are sautéed, add uncooked Portobello mushrooms and garlic. After mushrooms and garlic are cooked add roasted mushrooms, chardonnay and chicken broth and allow simmering for 20 minutes. Remove from heat and place mixture in blender.
Add Roux to pot. Blend in heavy cream. Place mixture back in pot on stove and add roux. Let simmer for 15 minutes. Garnish with croutons, sour cream and sliced chives.