Smoky Potato Salad with Horseradish Mayo
By
Deen Brothers
JUMP TO RECIPE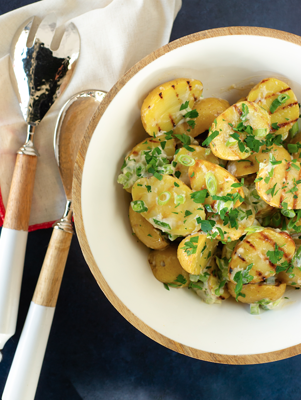 Featured in:
The Deen Bros. Get Fired Up
Difficulty: Easy
Ingredients
1 ½ pounds small- to medium-size Yukon Gold potatoes
Olive oil
½ teaspoon salt
½ teaspoon freshly ground black pepper
1/3 cup mayonnaise
¼ cup chopped scallions white and light green parts
3 tablespoons very finely chopped celery
3 tablespoons chopped fresh parsley
2 tablespoons prepared horseradish
Directions
Prick the potatoes all over with a fork and place on a microwave-safe plate. Cook in the microwave on medium-high power for 3 minutes. Turn the potatoes and cook for 3 minutes more, until fork tender. Preheat the grill to high heat and brush the grate with oil or spray with nonstick cooking spray. Brush the potatoes with olive oil and sprinkle with the additional salt and pepper to taste. Transfer the potatoes to the grill. Close the cover and cook, turning occasionally, until the skins are crisp and dark golden, 7 to 8 minutes. Let the potatoes cool completely, and then cut them into large chunks. In a large bowl, combine the potatoes, mayonnaise, scallions, celery, parsley, horseradish, and the ½ teaspoon each salt and pepper. Toss well. Taste and adjust the seasonings, if necessary.