Smoky Pimento Cheese Sandwiches
By
Deen Brothers
JUMP TO RECIPE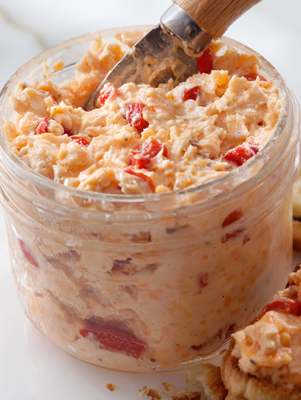 Difficulty: Easy
Prep time: 15 min
Cook time: 15 min
Servings: 4 servings
Ingredients
5 slices bacon
1 cup grated smoked Cheddar one 4-ounce block
1 cup grated smoked Gouda cheese one 4-ounce block
8 ounces cream cheese
1/2 cup mayonnaise
1/8 teaspoon smoked paprika
2 green onions
One 2-ounce jar diced pimentos
Glug hot sauce
Kosher salt and freshly ground black pepper
8 pieces sturdy white bread
Directions
Preheat the oven to 400 degrees F. Line a baking sheet with foil.
Bake the bacon on the baking sheet until crisp, about 15 minutes. Transfer to a paper-towel-lined plate to cool and drain.
Combine the Cheddar, Gouda, cream cheese, mayonnaise, paprika, green onions pimentos, hot sauce and some salt and pepper in a bowl. Blend together with a hand mixer until creamy and well mixed. Chop the bacon and fold into the mixture.
Spread 1/2 cup pimento cheese between 2 slices of bread and sandwich together. Slice in half. Repeat with remaining pimento cheese and bread.