Pork & Greens Stir-Fry
By
Bobby Deen
JUMP TO RECIPE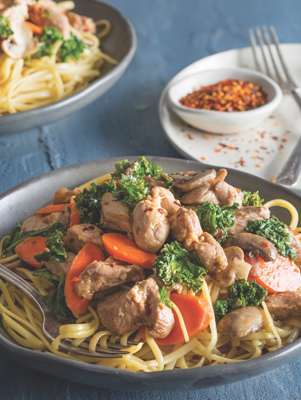 Featured in:
Cooking with Paula Deen Magazine
Difficulty: Easy
Prep time: 15 minutes
Cook time: 10 minutes
Servings: 6
Ingredients
¾ cup sweet chile sauce
½ cup cold water
3 tablespoons soy sauce
1½ teaspoons cornstarch
2 teaspoons minced fresh ginger
2 pounds pork tenderloin, cut into ½-inch cubes
3 tablespoons canola oil
3 cups sliced fresh mushrooms
4 medium carrots, peeled and thinly sliced
5 cups chopped stemmed mustard greens or kale
hot cooked linguine
crushed red pepper, for garnish
Directions
In a small bowl, stir together chile sauce, ½ cup cold water, soy sauce, cornstarch, and ginger.
In a large bowl, toss together ½ cup chile sauce mixture and pork.
In a large skillet, heat oil over medium-high heat. Add pork mixture; cook, stirring frequently, until lightly browned, about 2 minutes. Add mushrooms and carrots; cook, stirring occasionally, until mushrooms are lightly browned, about 1 minutes. Add greens; cook, stirring occasionally, until just wilted. Add remaining chile sauce mixture; bring to a boil. Cook, stirring constantly, until sauce is thickened, about 3 minutes.Serve over pasta. Garnish with red pepper, if desired.