Pickled Watermelon Rind
By
Paula Deen
JUMP TO RECIPE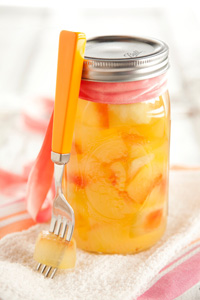 Difficulty: Medium
Prep time: 10 minutes
Cook time: 10 minutes
Servings: 10
Ingredients
4 quarts white part of rind only, cut into 1-inch cubes watermelon
1 cup kosher salt
2 gallons divided water
3 cups white vinegar
1/2 teaspoon mustard seed
1 teaspoon assorted color whole peppercorns
7 cups sugar
3 (1 quart) with lids canning jars
Directions
In a large bowl or pot, stir salt into one gallon of water until dissolved. Add watermelon rinds and let sit overnight.
Drain off water and thoroughly rinse rinds. In a large saucepan over medium-high heat, cook watermelon rinds with remaining one gallon of water. Cook the rinds until tender, about 5 minutes. Drain and set aside. Return the saucepan to heat and add vinegar, sugar and spices. Bring to a boil, then reduce heat and simmer for 10 minutes. Add watermelon rinds and cook until transparent, about another 10 minutes, stirring occasionally.
Sterilize jars and lids directly before using for 10 minutes in simmering water or in the dishwasher. Remove one at a time when ready to fill. While rinds are still hot, use a slotted spoon to transfer into the hot sterilized jars. Pour vinegar solution over rinds, filling to within 1/4 inch of the top. Wipe rims with a clean damp cloth and seal jars with lids and rings. Process in a boiling water bath (making sure water level is 1 inch over the top of the jars) for 10 minutes. Remove from water bath and allow to cool on the counter overnight.
Makes 3 quarts