Peanut Butter and Jelly Ice Cream Sandwiches
By
Paula Deen
JUMP TO RECIPE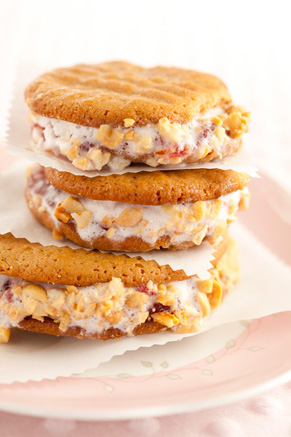 Difficulty: Easy
Prep time: 27 minutes
Cook time: 27 minutes
Servings: 27
Ingredients
1 cup creamy or crunchy peanut butter
1 1/2 cups plus 3/4 cup, divided sugar
1 egg
2 teaspoons divided vanilla extract
1 cup whole milk
1 cup whipping cream
2 cups half and half
2 cups diced strawberries
6 tablespoons strawberry preserves
chopped or peanut butter chips (optional) peanuts
Directions
Preheat the oven to 350º. Grease a large baking sheet.
In a mixing bowl, combine the peanut butter, 1 cup sugar, the egg and teaspoon vanilla, and stir well with a spoon. Roll the dough into balls the size of walnuts. Place the balls on the prepared baking sheet. With a fork, dipped in sugar to prevent sticking, press a crisscross design on each cookie. Bake for 12 minutes, remove from the oven, and sprinkle the cookies with some of the remaining 1/2 cup sugar. Cool slightly before removing from pan.
Strawberry Ice Cream:
In a small bowl, whisk together the 3/4 cup sugar, whipping cream, whole milk, half and half and 1 teaspoon vanilla. Puree the strawberries in a food processor and add to cream mixture. Pour the mixture into an ice cream maker. After freezing in the ice cream maker, transfer to a container and place in the freezer, to freeze solid, for 6 hours before serving.
For assembly:
Spread the strawberry preserves on a peanut butter cookie. Top with a small scoop of strawberry ice cream and cover with another cookie. Roll sides in peanut butter chips or peanuts, if desired.