Peanut Butter and Jelly Thumbprint Cookies
By
Deen Brothers
JUMP TO RECIPE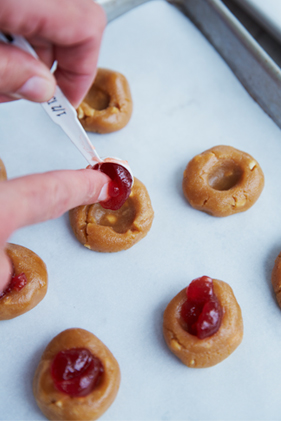 Difficulty: Easy
Prep time: 15 minutes
Cook time: 12 minutes
Servings: 15 cookies
Ingredients
1 cup crunchy peanut butter
½ cup firmly packed light brown sugar
¼ cup granulated sugar
1 large egg
1 teaspoon pure vanilla extract
strawberry jam
Directions
Preheat the oven to 350° F. Line a sheet tray with parchment.
Beat together the peanut butter, brown sugar, granulated sugar, egg and vanilla in a large bowl until fluffy. Spoon heaping tablespoons of batter onto the prepared sheet tray about 1 ½ inches apart. Flatten with a fork. Use your thumb to make a ¾ inch indent in the center of each cookie (being sure not to break through to the other side). Spoon ½ teaspoon of jam into each "thumbprint." Bake for 12 minutes, until golden. Let the cookies cool on a wire rack completely before serving.
You definitely need a grown up to help you with the PB & J cookies because you need to use a mixer and a hot oven.