Orange, Strawberry and Date Salad
By
Paula Deen
JUMP TO RECIPE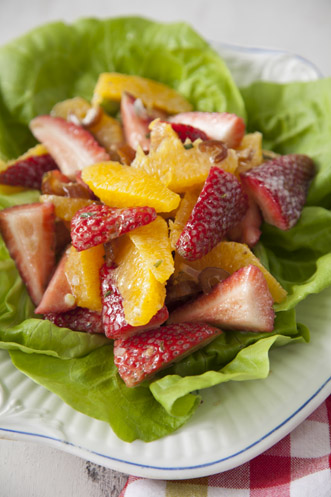 Difficulty: Easy
Prep time: 10 minutes
Cook time: 10 minutes
Servings: 10
Ingredients
6 tablespoons buttermilk
1 tablespoon lemon juice
2 teaspoons finely chopped shallot
1/2 teaspoon chopped fresh tarragon
1/4 cup extra virgin olive oil
salt
ground black pepper
1 head torn into pieces Boston lettuce
2 medium navel oranges
1 pint hulled and quartered strawberries
1/2 cup pitted, thinly sliced crosswise dates
Directions
For the dressing: Whisk together the buttermilk, lemon juice, shallots and tarragon in a bowl. Slowly whisk in the olive oil. Season with salt and pepper.
For the salad: In a bowl, coat the lettuce with all but 1/4 cup of the dressing. Arrange the lettuce on individual serving plates.
Cut off the top and bottom of each orange, just exposing the flesh. With a sharp knife, follow the curve of the fruit to cut away the peel, completely removing the white pith. Slice out each segment of fruit, cutting in along the membrane. Divide the oranges, strawberries and dates among the plates. Drizzle with the remaining dressing.