Minted Lamb
By
Paula Deen
JUMP TO RECIPE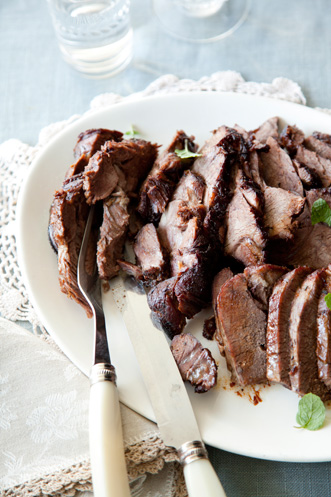 Difficulty: Easy
Prep time: 10 minutes
Cook time: 10 minutes
Servings: 10
Ingredients
1 small (about 3 lbs) boneless lamb shoulder
1/2 cup plus more for searing olive oil
2 tablespoons chopped fresh thyme
2 cloves minced garlic
1/4 cup honey
1/4 cup wine vinegar
2 tablespoons chopped fresh mint
Directions
Preheat oven to 375 °F.
Place the lamb in a resealable plastic bag. Combine the marinade ingredients in a glass bowl or measuring cup. Pour the marinade over the lamb, seal the bag, and refrigerate for at least 1 hour or overnight.
Once marinated, place the lamb in a cast iron pan with olive oil and sear the lamb on all sides. Cover pan with tinfoil and place in oven. Roast the lamb until done, for about 2 to 2 1/2 hours. The internal temperature should reach 180 °F on an instant-read thermometer.