Savannah Black Bean Soup
By
The PD Web Team
JUMP TO RECIPE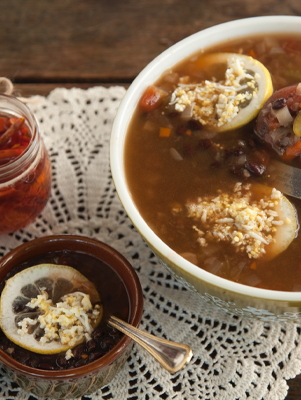 Difficulty: Hard
Prep time: 30 minutes
Cook time: 4 hours
Servings: 6
Ingredients
1 pound dried black beans
½ pound lean salt-cured pork in one piece, or ¼ pound if sliced
6 cups meat broth (see notes below)
1 large or 2 medium white onions, trimmed, split lengthwise, peeled and chopped
1 large or 2 small cloves garlic, lightly crushed, peeled, and minced
1 large carrot, peeled and diced small
2 ribs celery, washed, strung and dicd small
2 medium ripe tomatoes, scalded, peeled, seeded and chopped
1 bay leaf
2 large sprigs flat leaf parsley
6 whole cloves, powdered with a mortar and pestle or spice mill
salt
black pepper
ground cayenne pepper
1 tablespoon Worcestershire sauce
2 large hard-cooked eggs, peeled
6-8 tablespoons sherry (1 tablespoon per serving)
2 lemons, thinly sliced
pepper sherry (recipe follows), optional
Pepper Sherry
1/3 bird peppers or ½ cup other small hot peppers
1 cup medium-dry sherry (amontillado)
Directions
Rinse the beans under cold running water, sort through and discard any damaged or discolored ones, and put them in a large, heavy bottomed pot. Add enough water to cover them by 2 inches. Beans cook better in soft water: if your water, like Savannah's, is hard, use bottled or filtered water. Bring the beans slowly to a boil point over medium heat. Turn off the heat and soak until they have doubled in volume, about an hour.
Replenish the water with enough to cover the beans by 1 inch. Put the pot back over medium heat and bring it to a simmer again, skimming away any scum that rises. Reduce the heat to a slow simmer and cook until the beans are tender, about an hour.
Drain, reserving the cooking liquid, and return the beans to the pot with 2 cups of cooking liquid, the salt pork, and meat broth. Raise the heat to medium, and bring it back to a boil. Add the onion, garlic, carrot, turnip, celery and tomatoes, let it return to a boil, skimming off any scum that rises, then put in the bay leaf and parsley, powdered cloves, pinch or so of salt (going easy; you can correct it later) liberal grinding of pepper, small pinch of cayenne, and Worcestershire sauce. Reduce the heat to a slow simmer, cover, and cook until the vegetables are very tender, about 2 hours.
Take up and reserve 1 heaping cup of beans. Puree the remaining soup through a food mill or with a stick blender or food processor. If it's too thick, thin it with some of the reserved bean cooking liquid or broth. Stir in the whole beans and heat it through. Taste and adjust the seasonings, and let it heat for 2 to 3 minutes to meld.
Force the eggs through a coarse wire sieve. Add a tablespoon of sherry to each bowl, and ladle in the soup.  Float a slice of lemon and sprinkling of egg on top of each bowl. Serve with Pepper Sherry passed separately, if liked.
Meat Broth: beef is the most common, but some cooks use broth made from leftover ham bones and smoked hocks (omit the salt pork if you use that). In some parts of the South mutton or lamb broth are sometimes used.
Pepper Sherry
Rinse the peppers in cold water, drain, and put them in a heatproof bowl. Bring 1 cup of water to a rolling boil and pour it over the peppers. Let stand 1 minute and drain.
Put the peppers in a clean cruet, jar, or bottle that will hold at least 1½ cups. Pour the sherry over them, stop or seal it well, and steep for at least 24 hours before using. I find it helps distribute the peppery oils if you gently shake the cruet after 24 hours.
Makes 1 cup.