Lighter Honey Mustard and Pecan-Herb Coated Lamb Chops
By
Deen Brothers
JUMP TO RECIPE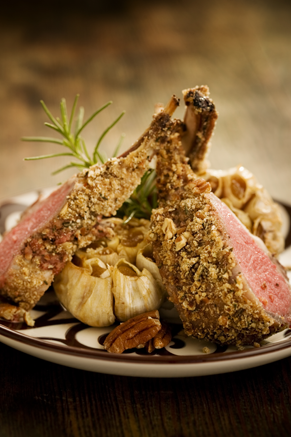 Difficulty: Easy
Prep time: 15 minutes
Cook time: 15 minutes
Servings: 15
Ingredients
1 1 1/2-pound frenched, and trimmed of all visible fat 8-rib rack of lamb
2 tablespoons unseasoned whole wheat bread crumbs
1 tablespoon finely chopped pecans
2 teaspoons chopped fresh rosemary
2 teaspoons chopped fresh parsley
1 clove minced garlic
1/4 teaspoon salt
1 tablespoon honey mustard
Directions
Heat a large cast-iron or other ovenproof skillet over medium-high heat until hot. Lightly spray the lamb rack with cooking spray. Add the rack, meaty side down, to the pan, and cook, without turning, until browned, about 4 minutes. Wipe the skillet clean. Transfer the lamb to a plate and set aside.
Preheat the oven to 400°F.
Meanwhile, combine the bread crumbs, pecans, rosemary, parsley, garlic and salt in a small bowl until well mixed. Brush the meaty side of the lamb with the mustard. Press the crumb mixture evenly over top. Lightly spray the crumb mixture with cooking spray. Return the rack, crumb-side up, to the skillet. Transfer the skillet to the oven and roast until the crumbs are golden brown and an instant-read thermometer registers 135°F for medium-rare, about 20 minutes. Do not turn. Transfer the lamb to a cutting board. Let stand about 10 minutes, then slice between the bones into 4 double chops. Serve at once.
Tip:
Frenching is the term for trimming off all of the excess fat from a lamb rack to expose the rib bones. Have the butcher do this for you, or if you like, you can do it yourself. Use a thin-bladed knife to remove excess fat from the top of the rack. Cut between each rib to remove any fat, then, moving the knife away from you, scrape the fat and flesh off of the bones.