Meatballs
By
Paula Deen
JUMP TO RECIPE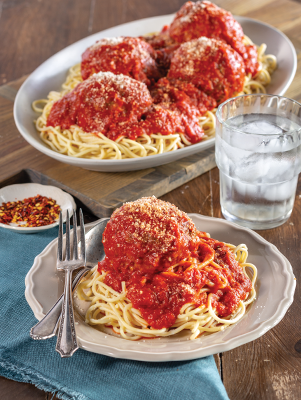 Featured in:
Love & Best Dishes
Difficulty: Medium
Prep time: 8 hours
Cook time: 20 minutes
Servings: Makes 8 large meatballs
Ingredients
1 tablespoon extra-virgin olive oil
1 medium onion, diced
1 clove garlic, sliced
1 pound ground round beef
1 pound ground veal
1 pound ground pork
3 cups diced soft bread (about 4 slices of bread)
2 cups grated Parmesan cheese
1 cup whole milk
4 large eggs, lightly beaten
2 tablespoons chopped fresh parsley
1 teaspoon Kosher salt
1 teaspoon fresh lemon juice
½ teaspoon crushed red pepper
½ teaspoon ground black pepper
⅛ teaspoon ground allspice
⅛ teaspoon ground nutmeg
⅛ teaspoon ground cloves
all-purpose flour, for rolling
vegetable oil, for frying
pasta, for serving
pasta sauce, for serving
Directions
In a skillet, heat olive oil over medium heat. Add onion and garlic, and cook 3 to 4 minutes. Let cool for 10 minutes.
In a large bowl, using your hands, gently combine onion mixture, meats, bread, cheese, milk, eggs, parsley, salt, lemon juice, red pepper, black pepper, allspice, nutmeg, and cloves. Shape into ½-cup meatballs. Refrigerate overnight.
Reshape balls, and roll in flour to coat.
In a skillet, fry meatballs, in batches, until browned on all sides.
In a large Dutch oven, pour water to a depth of about 3 inches, and heat over medium heat until simmering. Place meatballs, in batches, in water, and gently simmer until an instant-read thermometer inserted in center of a meatball registers 160˚F. Remove from pot, and set aside. Serve with favorite pasta and sauce.