Shane's Sweet and Sour Meatballs
By
Paula Deen
JUMP TO RECIPE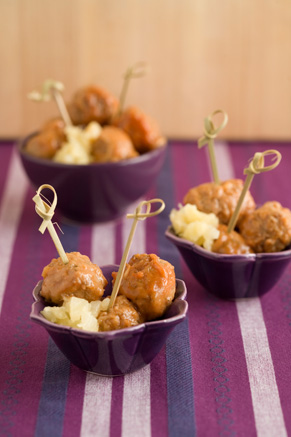 Difficulty: Easy
Prep time: 10 minutes
Cook time: 10 minutes
Servings: 10
Ingredients
6 cloves chopped garlic
2 (8 oz) cans save the juice pineapple
1/2 cup chopped green onion
1 red or white diced onion
1/2 cup dijon mustard
1 lb cooked meatballs
4 cups ketchup
1/4 cup water
2 tablespoons Worcestershire sauce
1 cup sugar
1/4 cup white vinegar
2 tablespoons pineapple juice
2 tablespoons approximate black pepper
Directions
Preheat oven to 350 °F.
In deep non-greased baking pan, place meatballs, mustard, red and green onion, and garlic. Mix well. Add the sweet and sour sauce. And the pineapple, then mix well.
Bake at 350 °F for 1 hour. After 30 minutes, add the pineapple juice and mix it. When time is up serve the meatballs with the sweet and sour sauce and the pineapple on the side.
Sweet and Sour Sauce:
In saucepot, mix all ingredients together. Cook on high heat. Keep your eye on it. Do not walk away. After 2 minutes mix it. Then after 3-4 minutes take it off and mix for 2 minutes. Use it same day or keep in the refrigerator for about 2-3 weeks at the maximum.