Mama's Sweet Potato Custard Pie
By
Paula Deen
JUMP TO RECIPE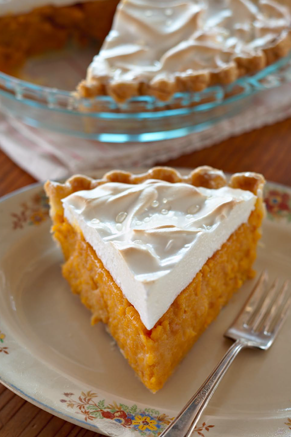 Difficulty: Easy
Prep time: 20 minutes
Cook time: 20 minutes
Servings: 20
Ingredients
3 lbs (about 6 medium) sweet potatoes
1 cup sugar
1 oz (2 tablespoons) unsalted butter
4 large lightly beaten eggs
salt
1 teaspoon optional ground cinnamon
1/2 teaspoon optional freshly grated nutmeg
1 teaspoon vanilla extract
1/4 cup or evaporated milk heavy cream
whipped cream
1 (2 crusts) recipe basic pastry
Directions
Scrub the potatoes well under cold running water. Put them in a large, heavy-bottomed pot and add enough cold water to cover by 1 inch. Bring to a boil over medium high heat, reduce the heat to a steady simmer, loosely cover, and cook until the potatoes are tender (a fork or sharp knife should easily pass through). Drain and cool enough to handle.
Meanwhile, position a rack in the center of the oven and preheat the oven to 375º. Line two 9-inch pie plates with pastry and prick well with a fork. Cover with buttered foil, buttered side down, weight with dried beans or pie weights. Partially bake for 20 minutes. Remove the weights and foil and let cool.
While they'€™re still hot, peel the sweet potatoes and puree through a potato ricer (note: a potato ricer is a simple kitchen tool used to process potatoes by forcing them through small holes, which are often no larger than a grain of rice) into a large mixing bowl, or cut in chunks and mash them well with a fork or potato masher. Mix the butter and sugar and until absorbed, then stir in the eggs, spices, vanilla and enough cream or evaporated milk to make it smooth but not soupy. It should still be quite thick.
Pour the custard into the prepared pastry, smooth the top, and bake in the center of the oven until set at the center, about 40 minutes. Cool on wire racks and serve at room temperature or slightly chilled, with a healthy dollop of whipped cream.