Mama's Ham Dumplings
By
Damon Lee Fowler
JUMP TO RECIPE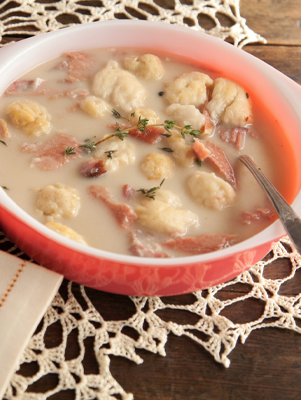 Difficulty: Medium
Prep time: 45 minutes
Cook time: 3 hours
Servings: 6
Ingredients
Mama's Ham Dumplings
bone from a whole ham or 3 pounds ham hock or knuckle
3 quarts water
1 large white onion, peeled and halved
1 large carrot, peeled and cut in large chunks
6 whole peppercorns, plus whole black pepper in a mill
raised dumplings (recipe follows)
1 cup leftover boiled (or raw) Country Ham, cut into julienne
¼ cup chopped parsley plus two tablespoons for garnish (optional)
Raised Dumplings
10 ounces (about 2 cups unbleached all-purpose flour
½ teaspoon baking soda
2 teaspoons baking powder
1 teaspoon salt
4 tablespoons lard, shortening, or unsalted butter
1 cup whole buttermilk or plain all-natural whole milk yogurt thinned to buttermilk consistency with water or milk
Directions
Mama's Ham Dumplings
Put the bones into a large stock pot and pour the cold water over them. Turn on the heat as low as you can get it and bring the water slowly to the boiling point, carefully skimming off the scum as it pops to the surface. It will take about 45 minutes.
Add the onion, carrot, and peppercorns. Simmer slowly for at least 1 hour, 2 is better. Strain, discarding the solids, return the broth to the pot, bring it back to a boil, and reduce it to 1½ quarts (about half).
Make the dumplings according to the recipe. Drop them a few at a time into the simmering broth and let them simmer for 5 minutes. Add a dusting of freshly milled pepper, stir in the ham and parsley (if using—my grandmother didn't), and simmer for 2 to 3 minutes more. Ladle onto a serving platter or individual soup plates, sprinkle with more parsley, and serve at once.
Raised Dumplings
Sift or whisk together the flour, soda, baking powder, and salt into a mixing bowl. Cut in the lard with a pastry blender until it resembles coarse corn meal.
Make a well in the center and pour in the buttermilk or yogurt. Using a wooden spoon and as few strokes as possible, quickly stir the ingredients together.
To shape flat dumplings (sometimes called "slipperies") like my grandmother's, turn the dough onto lightly flour a smooth work surface. Flour you hands and gently push it away from you to flatten. Fold it in half, gently press flat with the heel of your hand, and give it a quarter turn. Repeat this until just smooth, about 12 to 15 folds. Dust the work surface and the dough with more flour and roll it out to a thickness of 1/8-inch. Quickly cut into 1-inch strips, and then cut them into 2-inch lengths. Cook immediately.