Mama's Spaghetti Casserole with Baked Garlic Herb Bread
By
Deen Brothers
JUMP TO RECIPE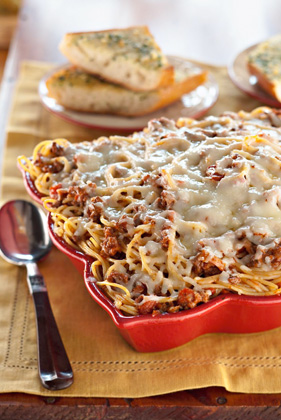 Featured in:
The Deen Bros. Y'all Come Eat
Difficulty: Easy
Servings: 8
Ingredients
Salt
1 pound uncooked spaghetti
1 tablespoon extra virgin olive oil
1 pound ground beef
1/2 teaspoon salt
1/2 teaspoon dried oregano
1/4 teaspoon freshly ground black pepper
Pinch crushed red pepper flakes
1 26-ounce jar spaghetti sauce
3 ounces Parmesan cheese
8 ounces mozzarella cheese
1/2 cup 1 stick unsalted butter
2 tablespoons chopped fresh parsley
2 clove s garlic
Pinch salt
1 16-inch loaf Italian bread
Directions
Preheat oven to 350°F. Bring a large pot of salted water to a boil. Add the spaghetti and cook according to package directions; drain.
In a large Dutch oven, heat the oil over medium-high heat. Add the beef; cook about 5 minutes or until brown, breaking meat up with a fork as it cooks. Add the salt, oregano, black pepper, and red pepper flakes. Stir in the spaghetti sauce, Parmesan, and the cooked spaghetti. Transfer to baking dish. Top evenly with mozzarella. Bake for 30 to 40 minutes or until the cheese is melted and bubbling.
For the garlic bread, while the casserole bakes, whisk together the butter, parsley, garlic, and salt. Brush the butter mixture over the cut sides of both bread halves. Wrap each half in aluminum foil; bake, alongside the casserole, for 15 to 20 minutes or until heated through.
For crispier bread, unwrap for the last 5 minutes of baking. Serve bread with the casserole.