Kale and Bacon Frittata
By
Deen Brothers
JUMP TO RECIPE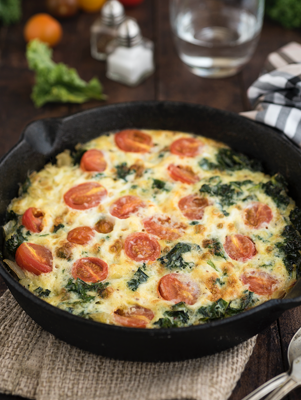 Difficulty: Easy
Prep time: 15 min
Cook time: 25 min
Servings: 8
Ingredients
1/4 cup 1-percent milk
4 large eggs
4 large egg whites
4 slices bacon
2 cups kale, finely chopped
Kosher salt, to taste
freshly ground black pepper, to taste
3/4 cup shredded Jarlsberg Lite cheese
1/4 cup tomatoes, chopped
Directions
Preheat the oven to 325 degrees F.
Beat the milk, eggs and egg whites in a large bowl; set aside. Cook the bacon in a large (oven-safe) nonstick skillet over medium heat for about 2 minutes. Add the kale and cook until wilted, about 5 minutes. Season lightly with salt and pepper. Add the egg mixture to the pan and scramble gently as the eggs begin to set. Sprinkle with the cheese.
Transfer the pan to the oven and cook until the eggs are set and the cheese is melted, 10 to 15 minutes. Allow to cool slightly before cutting into wedges. Top with the tomatoes and serve.