Jacket Potato with Bacon, Mushroom, and Peppercorn
By
Paula Deen
JUMP TO RECIPE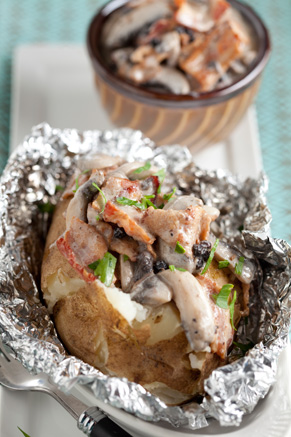 Difficulty: Medium
Prep time: 15 minutes
Cook time: 60 minutes
Servings: 4
Ingredients
12 oz bacon, chopped
4 medium baking potatoes, well scrubbed
8 oz button mushrooms, sliced
1 tablespoon green peppercorns, drenched in cold water
1/4 cup brandy
1 cup cream
butter, for topping
Directions
Preheat the oven to 375 °F. Prick potatoes with a fork and bake until soft, about 1 hour.
Sauté bacon, add button mushrooms and cook until golden brown. Pour brandy first into a measuring cup (for safety) and then into the pan and carefully ignite with a long match. After the alcohol burns off and the flame has died, stir in the peppercorns. Stir in the cream and heat through, without boiling. Salt and pepper to taste.
Cut open baked potatoes. Top each with a spoonful of butter, then cover generously with sauce.