T-Bone Steaks with Garlic Parsley Sauce
By
Paula Deen
JUMP TO RECIPE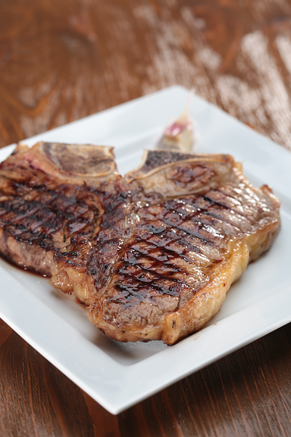 Difficulty: Easy
Ingredients
5 cloves minced garlic
1 minced shallot
1 cup packed fresh parsley leaves
1/2 cup plus 2 tablespoons extra virgin olive oil
3 tablespoons white wine vinegar
1 teaspoon crushed red pepper
1/4 teaspoon plus more for seasoning salt
2 1 1/2-inch t-bone steaks
freshly ground black pepper
Directions
For the steaks: Spray the grill rack with nonstick, nonflammable cooking spray. Preheat the grill to medium-high heat.
Brush both sides of the steaks evenly with 2 tablespoons oil. Sprinkle with salt and pepper. Grill the steaks for 5 minutes per side, or to desired degree of doneness. Remove the steaks from the grill and let stand for 5 minutes. Serve with the garlic parsley sauce.
For the sauce: In the work bowl of a food processor, combine all the sauce ingredients. Pulse until the mixture is finely chopped. Transfer the mixture to a medium bowl. Cover and refrigerate up to 3 days.