Bobby's Lighter Iced Double-Chocolate Mocha Frappe
By
Deen Brothers
JUMP TO RECIPE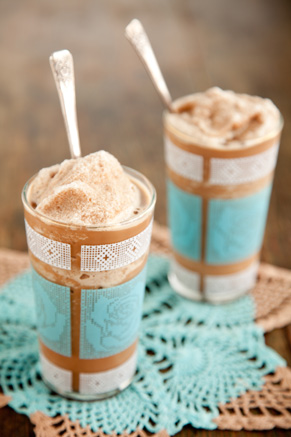 Difficulty: Easy
Prep time: 10 min
Servings: 4
Ingredients
1/2 cup boiling water
1 .55-ounce packet fat-free hot cocoa mix Swiss Miss Fat-Free Sensible Sweets
4 teaspoons instant coffee
1/4 cup fat-free chocolate syrup
3 tablespoons fat-free half-and-half
2 cups ice cubes
Directions
Whisk together the water, cocoa mix, and coffee in a small bowl until the cocoa and coffee are completely dissolved. Whisk in the chocolate syrup and half-and-half. Let the mocha mixture cool 5 minutes.
Place the ice cubes in a blender. Add the mocha mixture and blend until the mixture is smooth and the ice is finely crushed. Serve immediately.
Test Kitchen Tip: Make sure to use a blender and not a food processor when combining the ingredients. The blade of a food processor is not intended to crush ice and may damage the blade.