Italian Chicken and Pasta Bake
By
Paula Deen
JUMP TO RECIPE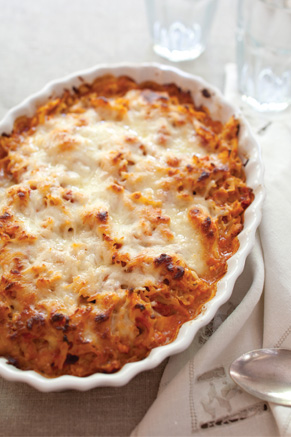 Difficulty: Easy
Prep time: 10 minutes
Cook time: 10 minutes
Servings: 6
Ingredients
1/4 cup butter
1 cup onion, chopped
4 cloves garlic, minced
1/4 cup all purpose flour
1 cup milk
2 (14.5-oz) cans diced tomatoes with basil, garlic, and oregano
1 (15-oz) can tomato sauce
3 cups chicken, cooked and chopped
4 cups mozzarella cheese, shredded and divided
1 1/2 teaspoons salt
1 teaspoon ground black pepper
1/2 teaspoon sugar
1 (16-oz) package bow tie pasta, cooked according to package directions and kept warm
Directions
Preheat oven to 350 °F. Spray a 13×9-inch baking dish with nonstick cooking spray.
In a very large skillet, melt butter over medium-high heat. Add onion and garlic; cook, stirring occasionally, for 5 to 6 minutes or until onion is tender. Add flour, and cook, stirring constantly, for 2 minutes. Stir in milk, diced tomatoes and tomato sauce; cook for 5 to 6 minutes or until slightly thickened. Stir in chicken, 3 cups cheese, salt, pepper and sugar. Stir in pasta. Spoon mixture into prepared baking dish; sprinkle with remaining 1 cup cheese.
Bake for 25 to 30 minutes or until hot and bubbly.