Chicken Parmesan
By
Paula Deen
JUMP TO RECIPE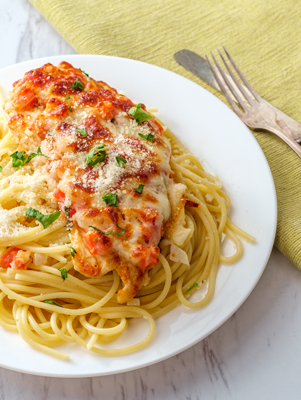 Difficulty: Easy
Prep time: 25 minutes
Cook time: 25 minutes
Servings: 4
Ingredients
4 Italian-marinated chicken breasts
⅛ teaspoon salt
2 eggs, beaten
1 teaspoon minced garlic
3 tablespoons dried parsley, divided
seasoned panko bread crumbs
¼ cup flour
vegetable oil, for frying
32-ounce jar Rao's Roasted Garlic Marinara Sauce
8 slices fresh mozzarella
1 cup grated Parmesan
1 cup shredded mozzarella
cooked angel hair pasta or pasta of choice, for serving
Directions
Mix together the eggs, salt, garlic, and 1 tablespoon parsley. Place the 4 chicken breasts in a gallon-sized plastic storage bag. Pour the egg mixture over the chicken breasts and coat well. Allow the chicken to marinate for 15 minutes.
Mix together panko, flour, and 2 tablespoons parsley. Remove the chicken from the bag and coat in the panko mixture.
In a large skillet, pour vegetable oil deep enough to cover the chicken breasts. Heat the oil on medium heat until hot. Test the oil by dropping a spritz of water onto the oil. If the water sizzles, the oil is ready to use. Add the chicken breasts to the oil, cooking the chicken 4 to 5 minutes per side, until golden.
Preheat oven to 350˚.
While chicken is cooking, add marinara sauce to an oven-proof skillet. Once the chicken is cooked, place each piece on top of the marinara sauce. Top each breast with 2 slices of fresh mozzarella and freshly grated parmesan cheese.
Place chicken in the oven and bake for 15 minutes. After 15 minutes, top with shredded mozzarella and allow to melt.
Serve warm over cooked pasta.