Pull-Apart Garlic Cheese Bread
By
Paula Deen
JUMP TO RECIPE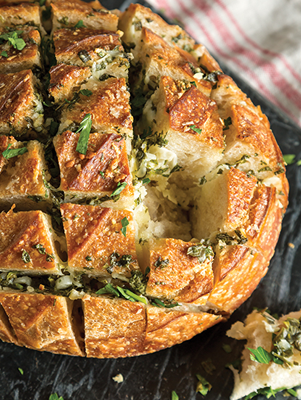 Featured in:
Cooking with Paula Deen Magazine
Difficulty: Easy
Prep time: 10 minutes
Cook time: 30 minutes
Servings: 10 to 12
Ingredients
2 cups shredded mozzarella cheese, divided
¼ cup unsalted butter, melted
¼ cup olive oil
2 tablespoons garlic powder
1 tablespoon dried Italian seasoning
1 tablespoon fresh rosemary
1 tablespoon fresh parsley
1½ teaspoons Kosher salt
¼ teaspoon crushed red pepper
4 (8-ounce) cans refrigerated crescent rolls
chopped fresh rosemary, for garnish
chopped fresh parsley, for garnish
crushed red pepper, for garnish
Directions
Preheat oven to 350˚. Spray a 13×9-inch baking dish with cooking spray. Line pan with parchment paper, letting excess extend over sides of pan.
In a large bowl, stir together 1½ cups cheese, melted butter, oil, garlic powder, Italian seasoning, rosemary, parsley, salt, and red pepper until well combined.
On a lightly floured surface, roll each can of crescent dough into a 12×8-inch rectangle, sealing dough perforations. Using a pizza cutter, cut each large rectangle into 16 (3×2-inch) rectangles. Roll each small rectangle into a ball. Add all dough balls to cheese mixture, tossing until well combined. Place dough balls in prepared pan.
Bake until golden brown, about 25 minutes, loosely covering with foil to prevent excess browning, if necessary. Sprinkle with remaining ½ cup cheese. Bake until cheese is melted, about 5 minutes more. Let stand for 10 minutes before serving. Using excess parchment as handles, remove from pan. Garnish with rosemary, parsley, and red pepper, if desired.