Iron Skillet Brownies
By
Paula Deen
JUMP TO RECIPE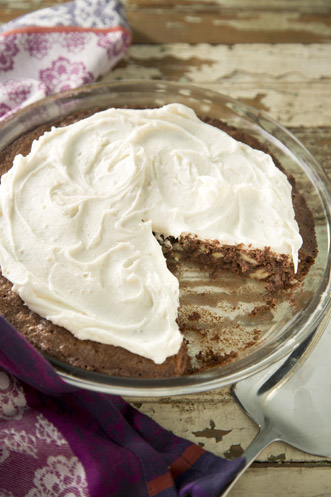 Difficulty: Easy
Prep time: 20 minutes
Cook time: 40 minutes
Servings: 8
Ingredients
Brownies
1/2 cup butter, plus more for pie plate
20 (1-oz) squares of unsweetened chocolate
1 cup sugar
1 tablespoon vanilla extract
1/4 cup all purpose flour
1/4 teaspoon salt
2 eggs
1 cup pecans, chopped
ice cream, for serving
whipped cream, for serving
Marshmallow Cream Frosting
7 oz marshmallow cream
1/2 cup butter, softened
1 teaspoon vanilla extract
3 1/2 cups confectioner's sugar
2 tablespoons milk
Directions
Brownies
Preheat oven to 325 °F. Butter a circular pie plate.
Melt chocolate and 1/2 cup butter in an iron skillet over medium heat; stir to prevent scorching. Remove from heat when melted. Whisk in sugar, 1 tablespoon vanilla, flour and salt. In a small bowl, whisk the eggs together and add a little hot brownie mixture. This will temper the eggs and not cook them, when they go into the skillet. Pour eggs into skillet along with the pecans. Mix well. Pour into prepared pie plate. Bake in the preheated oven for 40 minutes. Let cool and frost. Cut into squares, top with whipped cream or ice cream and serve.
Marshmallow Cream Frosting
Beat marshmallow cream, 1/2 cup softened butter, 1 teaspoon vanilla, confectioner's sugar and milk together in a large bowl until well combined.