Holiday Whoopie Pies
By
Paula Deen
JUMP TO RECIPE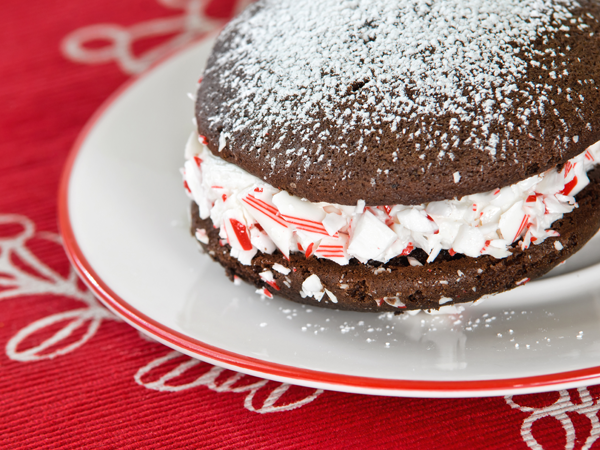 Difficulty: Medium
Prep time: 25 minutes
Cook time: 25 minutes
Servings: 25
Ingredients
3 cups sugar
1 cup softened, plus 1 1/2 cups for filling unsalted butter
4 large room temperature eggs
1/2 cup vegetable oil
1 tablespoon vanilla
6 1/2 cups all purpose flour
2 cups unsweetened cocoa powder
1 1/2 tablespoons baking soda
1 teaspoon baking powder
1 1/2 teaspoons divided salt
3 cups plus 4 tablespoons, divided milk
1 1/2 cups vegetable shortening
9 cups confectioner's sugar
4 cups marshmallow creme
1 teaspoon peppermint extract
1 lb hard peppermint candies
Directions
For the Cookies:
Preheat oven to 350º. Line two half-sheet pans with Silpats or lightly grease.
In a large (at least 5 quart) bowl of stand mixer, cream sugar and 1 cup unsalted butter with paddle attachment for 3-5 minutes. Add eggs, beating well after each. Add vegetable oil and vanilla and beat.
In a large separate bowl, sift flour, cocoa powder, baking soda, baking powder, and 1 teaspoon salt together.
With mixer on very low speed, gradually add half of the dry ingredients to the egg mixture. Blend well. With mixer running on low, add 1 1/2 cups of the milk. Mix until blended. Repeat with remaining dry ingredients and 1 1/2 cup milk.
Using a standard 1/4-cup ice cream scoop, place batter on baking sheets, spacing 2-3″ apart. Bake 12 minutes, rotating pans (move lower pan to top level and top level to lower level) after the first 6 minutes. Remove cookies from oven and transfer to cooling racks. Repeat with remaining batter. Don't worry if some are a little cracked on the top – that's normal! Cool completely prior to filling.
For the Filling:
Combine 1 1/2 cups butter, shortening, confectioner's sugar, marshmallow creme, 4 tablespoons milk, peppermint extract and 1/2 teaspoon salt in large bowl of mixer and beat until fluffy with paddle attachment.
Place peppermints in heavy plastic bag and crush with hammer or flat side of meat tenderizer. Sift crushed mints through fine sieve to separate dust from bits of candy. Fold 1/2 of candy bits plus "dust" into the filling. Reserve other half of candy pieces for garnish.
To assemble:
Place a scoop of filling on the flat side of one cookie. Place another cookie, flat side down on top, pressing down gently. Roll edges of icing in remaining crushed peppermints. Package immediately in clear cellophane bags and tie with ribbon.