Holiday Glazed Ham
By
Paula Deen
JUMP TO RECIPE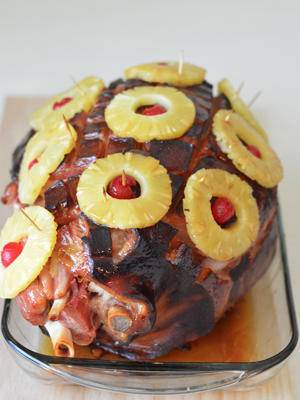 Difficulty: Easy
Prep time: 5 minutes
Cook time: 5 minutes
Servings: 5
Ingredients
1 whole ham
1 (20 oz) can pineapple slices
15 (up to 20), optional whole cloves
1 small jar maraschino cherries
1 jar (up to 2 jars) Paula's Holiday Ham Glaze
3 halved, for garnish oranges
3 halved, for garnish lemons
2 tablespoons butter
sugar
Directions
Preheat the oven as directed on the ham package and follow the instructions for baking the ham. Cover with foil to keep ham moist. Remove the ham from the oven after about 1 hour.
Decoratively arrange the pineapple slices on top of the ham, securing them with whole cloves, if using, or toothpicks. Place a cherry in the center of each pineapple ring and secure with a clove or toothpick.
Spoon the glaze over the ham and bake for 30 minutes. Remove the ham from the oven, transfer to a cutting board and carve.
To a cast iron skillet, add butter. Let melt, then add oranges and lemons, sliced side down. Allow to cook for 3-4 minutes, dip in sugar, then garnish platter with the oranges and lemons.