Hoecakes
By
Deen Brothers
JUMP TO RECIPE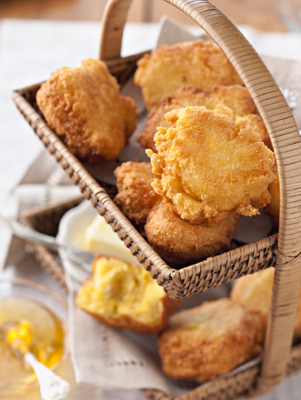 Featured in:
The Deen Bros. Y'all Come Eat
Difficulty: Easy
Prep time: 10 minutes
Cook time: 3 minutes
Servings: 15
Ingredients
1 cup self-rising flour
1 cup cornmeal
2 large eggs
1 tablespoon sugar
pinch of salt
¼ cup buttermilk
⅓ cup plus 1 tablespoon water
¼ cup (½ stick unsalted butter, melted
vegetable oil or butter, for frying
Directions
In a medium bowl, mix together all the ingredients except the oil.
In a large skillet, heat ⅛ inch of oil. When oil is hot, drop 2 tablespoonfuls of batter into skillet for each cake.
Cook cakes about 2 minutes or until crisp and brown on bottom; turn cakes over and cook about 1 minute more or until second side is brown. Transfer cakes to a paper towel-lined plate. Serve hot.