Mama's Fried Chicken
By
Deen Brothers
JUMP TO RECIPE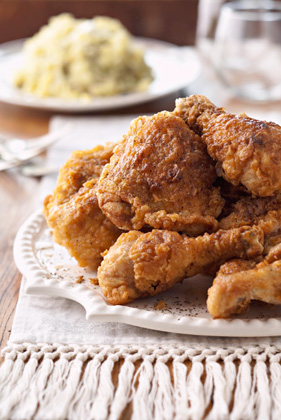 Featured in:
The Deen Bros. Y'all Come Eat
Difficulty: Easy
Servings: 4 to 6
Ingredients
1 4-pound chicken
1 teaspoon salt
1/2 teaspoon garlic powder
1/2 teaspoon cayenne pepper
1/2 teaspoon freshly ground black pepper
Vegetable oil for frying
2 large eggs
1/4 cup water
1 1/2 cups self-rising flour
Directions
Rinse the chicken and pat dry with paper towels. In a small bowl, combine the salt, garlic powder, cayenne pepper, and black pepper. Using your fingers, rub the spice mixture all over the chicken pieces to coat evenly. Cover and refrigerate from 20 minutes to 24 hours (the
longer the better).
In a large Dutch oven, heat 3 inches of oil to 350°F. Preheat oven to 350°F. In a shallow bowl, whisk together the eggs and water. Place the flour in a shallow dish.
Dip the chicken pieces first into the egg mixture and then into the flour, shaking off any excess. Fry the chicken, in batches if necessary, until golden brown and crisp on the outside and just cooked through (about 13 minutes for dark meat and about 10 minutes for white
meat). Transfer chicken to a paper towel-lined plate to drain. Serve hot.