Hairy Eyeballs
By
Paula Deen
JUMP TO RECIPE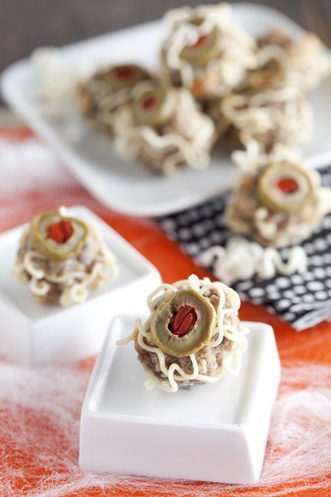 Difficulty: Easy
Prep time: 20 minutes
Cook time: 20 minutes
Servings: 20
Ingredients
1 1/2 cups biscuit mix
1 cup (4 oz) shredded or sharp cheddar Gruyere cheese
1/2 lb mild bulk sausage
1 (3 oz) package discard seasoning packet ramen noodles
halved crosswise pimento-stuffed olives
Directions
Preheat the oven to 350 °F. Line a large, rimmed baking sheet with aluminum foil; position a large wire rack on baking sheet. Set aside.
Combine biscuit mix, cheese and sausage in a large bowl; mix thoroughly.
Soak ramen noodles in hot water for 5 minutes, turning the bundle once; they should be pliable enough to pull apart without breaking. Drain. Carefully pull strands apart and place on a plate; cover with plastic wrap to keep them from drying out.
Shape sausage mixture, by tablespoons, into balls. Press an olive slice gently into top of each sausage ball. Wrap and press some noodles around each ball, letting most of the olive and some of the meat mixture show through. Place, olive sides up, on wire rack in baking sheet.
Bake until noodles are browned and sausage balls are cooked, about 20 minutes.