Grilled Tilapia Po' Boys with Homemade Tartar Sauce
By
Paula Deen
JUMP TO RECIPE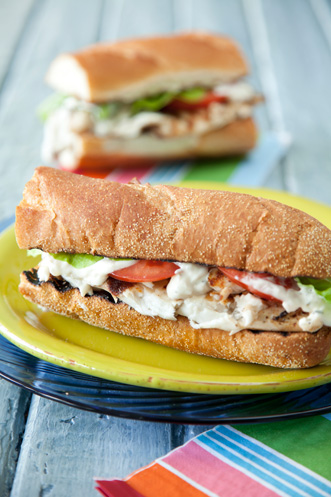 Difficulty: Easy
Prep time: 15 minutes
Cook time: 15 minutes
Servings: 15
Ingredients
1/2 cup mayonnaise
2 tablespoons chopped sweet pickles
2 tablespoons chopped red onion
1 1/2 teaspoons fresh lemon juice
1/4 teaspoon garlic powder
4 (7 oz) tilapia fillets
for brushing olive oil
1/4 teaspoon salt
1/4 teaspoon freshly cracked black pepper
1 to 2 loaves French bread
2 medium cut into 8 slices beefsteak tomatoes
4 leaves romaine lettuce
Directions
Prepare a grill or preheat a broiler. If using a broiler, line a baking sheet with foil.
Combine the mayonnaise, pickles, onion, lemon juice and garlic powder in a small bowl. Cover and refrigerate until ready to use.
Brush the tilapia fillets with some olive oil and season them with the salt and black pepper. Cut the bread into 4 (7-inch) sections, then halve each section lengthwise.
Put the fish on the grill or, if broiling, transfer the fillets to the prepared baking sheet. Grill or broil, turning once, until the fish is cooked through, about 6 minutes. Lay the bread on the grill, cut side down, or broiler, cut side up, and grill or broil until toasted, about 1 minute.
For 1 sandwich, layer 1 tilapia fillet on the bottom slice of bread, followed by 2 slices of tomato and 1 lettuce leaf. Spread the top slice of bread with 2 tablespoons of the tartar sauce and cover the sandwich. Repeat with remaining bread and filling. Arrange on a serving platter and serve.