Grilled Tilapia with Peach BBQ Sauce
By
Paula Deen
JUMP TO RECIPE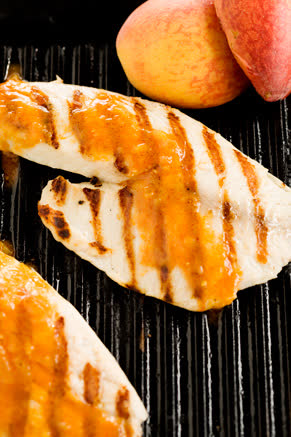 Difficulty: Easy
Prep time: 10 minutes
Cook time: 10 minutes
Servings: 10
Ingredients
3/4 cup ketchup
3 tablespoons mustard
1/2 cup oil
1/2 cup apple cider vinegar
pinch garlic salt
3 tablespoons Worcestershire sauce
2 teaspoons paprika
1/4 cup lemon juice
1 teaspoon pepper
3 tablespoons brown sugar
3/4 cup water
1/2 cup finely chopped onions
2 cups fresh or canned peaches
4 (7 oz) tilapia fillets
Paula Deen's House Seasoning
1 juiced lime
Directions
Mix all the ingredients together in a saucepan (excluding the peaches, house seasoning and fish) and simmer over medium heat for 15 to 20 minutes.
While the sauce is simmering, puree 2 cups of canned or fresh peaches. Once the sauce is cooked, add the pureed peaches to the sauce and stir together.
Preheat the grill to medium heat. Season the tilapia with house seasoning. Cook the fish on each side for 3 to 4 minutes. During the last few minutes of cooking, brush the fish with some barbecue sauce.
Once cooked and plated, ladle a nice spoonful of the Peach barbecue sauce on top of the fillets.