Gentleman Joes
By
Paula Deen
JUMP TO RECIPE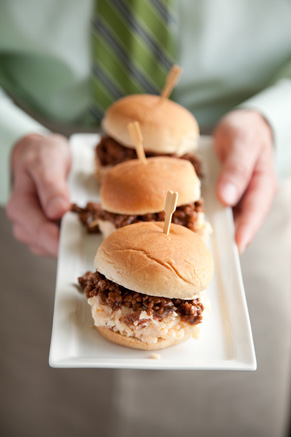 Difficulty: Easy
Prep time: 10 minutes
Cook time: 10 minutes
Servings: 10
Ingredients
2 lbs ground sirloin
1 medium diced onion
1 cup or your favorite prepared BBQ sauce Paula Deen Smokey Apple Cinnamon BBQ Sauce
3 cups leftover mashed potatoes
3 slices cooked crisp and chopped, drippings reserved thick bacon
1/2 cup shredded cheddar cheese
6 sandwich buns
Directions
In a large sauté pan cook ground sirloin until just browned. Remove from pan and set aside. Drain beef fat from pan. Add reserved bacon fat and onion to pan and sauté until onion is translucent. Add cooked beef and BBQ sauce. Reduce heat and simmer while heating potatoes.
In a medium sauce pan add potatoes, bacon and cheese. Cook over low heat until heated through.
To assemble put 1/2 cup potato mixture on the bottom of each sandwich bun. Top with a generous scoop of beef mixture and place bun top over.