Frittata with Mushrooms and Spinach
By
Paula Deen
JUMP TO RECIPE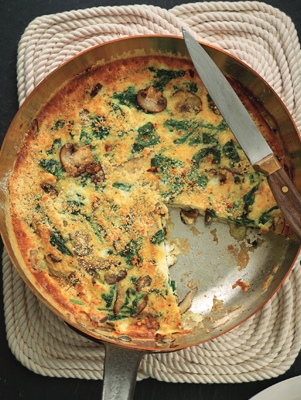 Featured in:
Paula Deen Cuts the Fat
Difficulty: Medium
Prep time: 10 minutes
Cook time: 30 minutes
Servings: 6
Ingredients
6 large eggs
3 large egg whites
⅓ cup milk
½ cup grated Parmesan cheese
½ teaspoon salt
¼ teaspoon Freshly ground black pepper
Pinch crushed red pepper flakes
1 tablespoon Olive oil
6 ounces mixed mushrooms (such as cremini and shitake), thinly sliced
2 cloves garlic, finely chopped
3 cups Baby Spinach Leaves, packed
Directions
Preheat oven to 450 degrees.
In a large bowl, whisk together the eggs, egg whites, milk, ¼ cup of the Parmesan, salt, pepper and red pepper flakes.
Heat the oil in a large ovenproof skillet oven medium-high heat. Add half the mushrooms and cook until slightly softened. Add the remaining mushrooms and cook until tender and lightly crisped, about 5 minutes. Stir in the garlic and cook for 30 seconds. Add the spinach, a handful at a time, and cook until wilted, about 1 or 2 minutes.
Pour the egg mixture into the skillet. Cook until the bottom and sides of the frittata are lightly set, 2 to 3 minutes. Sprinkle the top of the frittata with the remaining ¼ cup Parmesan. Bake until puffed and golden, 15 to 20 minutes.