Fired Up Rosemary Salmon
By
Paula Deen
JUMP TO RECIPE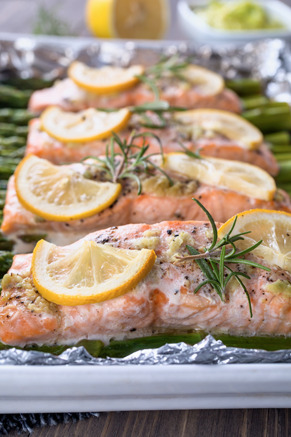 Difficulty: Medium
Prep time: 15 minutes
Cook time: 15 minutes
Servings: 15
Ingredients
1 skin-on, between 5 to 7 lbs salmon fillet
1 tablespoon butter
salt
freshly ground black pepper
2 to 3 sprigs plus more, for garnish fresh rosemary
sliced or orange slices lemon
Directions
Preheat oven to 350 °F.
Using small fish tweezers remove pin bones from the length of the salmon and discard.
Place salmon skin side down on tin foil in a large roasting pan and season with a tablespoon of butter, salt and pepper. Place the sprigs of rosemary and lemon slices over the salmon so that they are overlapping and form a tent over the salmon. Wrap each salmon in the tin foil and roast for 15 minutes or until internal temperature reaches 145 °F on an instant-read thermometer.
Remove the salmon from the oven and bring to a well ventilated outdoor area. Light the oven dried rosemary on fire over the salmon. Let the ash fall over the salmon leaving streaks of concentrated rosemary flavor.
Using a large fish spatula, remove the side of salmon from the roasting pan and place on a platter. Garnish with sprigs of fresh rosemary and lemon wedges.